Certified Dog and Puppy Training Experts Maryland!
---
---
Why do I need to train my dog
Owning a dog or puppy is a significant responsibility. Without the understanding or proper training techniques to effectively
communicate with your dog, relationships can deteriorate, and the newest family member may become less enjoyable than anticipated.
Dog training serves two important purposes.
Firstly, it helps build confidence in your dog and engages their brain in problem-solving and information processing, providing essential mental stimulation.
Secondly, it fosters a trusted bond between the dog and their owner.
By understanding how to communicate with your dog, you can greatly reduce frustration for both yourself and your furry companion.
Remember, dog and puppy training is an ongoing process, and dogs never stop learning. Our goal is to make dog training enjoyable for the entire family!
---
What is positive reinforcement?
---
How our Maryland Dog Trainer can help you!
Maryland dog owners rely on our expertise for puppy training because we are certified professional puppy and dog trainers in Silver Spring, Maryland with over 20 years of experience. Our main focus is to teach you, the dog owner, how to effectively communicate with your dog or puppy so that you can continue training them throughout their lifetime. We work with all breeds and address all behavior challenges.
We understand that dog owners seek peace of mind, and that's why we offer our knowledge and expertise to help you feel confident in your training journey. Our commitment to using positive reinforcement dog training techniques ensures successful and enjoyable training sessions.
At our in home dog training center in Silver Spring, MD, we believe that training is a family affair. We encourage all family members, including young children, to participate in the training process. After all, it's a wonderful opportunity to bond and learn together.
Our puppy training programs provide simple step-by-step solutions, making it easy for you to follow along and implement effective training techniques. We are here to support you every step of the way in achieving a well-behaved and happy dog.
---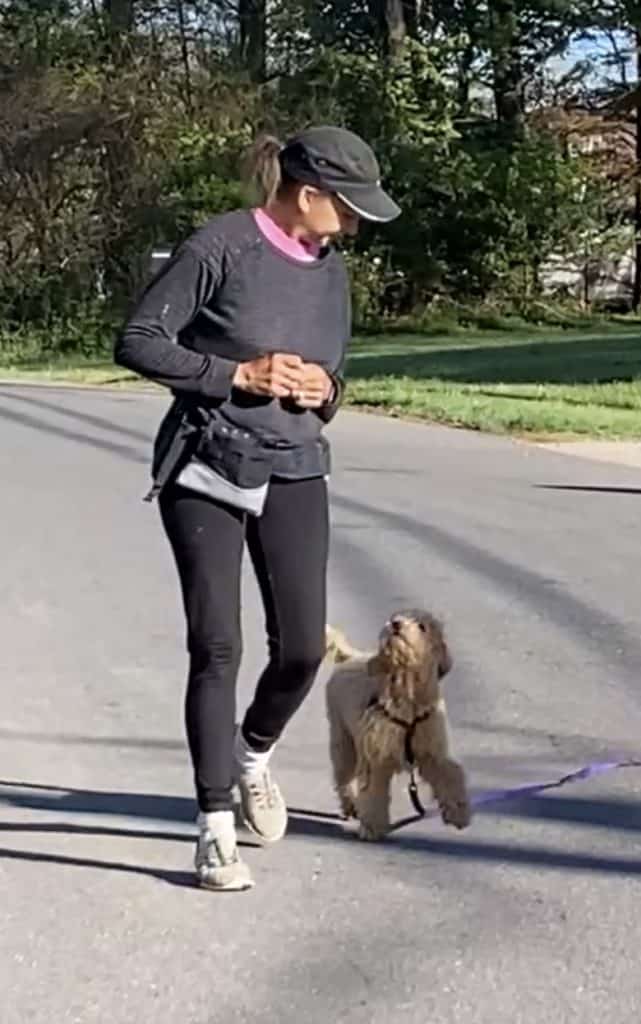 Our Maryland dog training programs are great for:
All new dog or puppy owners.
Helping new dog or puppies adjust to their new home.
Anyone experiencing any range of dog or puppy behavior challenges.
Training that is required in and around your home or living environment.
Dog owners who need the convenience of training to suit your busy schedule.
Preparing for a new rescue dog or a new puppy.
Dog owners requiring help with children and dog relationships.
Troubleshooting random behavior challenges.
Dog or puppy owners who just need the help of a dog training professional.
---
The Maryland dog and puppy training areas we cover:
Dog and puppy obedience
Leash Walking/ pulling on leash
Leash reactivity
Puppy obedience training
Housebreaking | Potty training  
Crate training 
Jumping on people/greeting manners
Fear and Shy Dogs
Separation Anxiety
We work with all dog behaviors 
All breeds and all ages welcome
Customized training programs
We come to you!
Our training is based on science.
100% positive reinforcement techniques 
Certified Professional Dog Trainer (CPDT-KA)
Certified Dog Behavior Consultant (CDBC)
We train WITHOUT pain!
---
---
Our service areas include: Silver Spring, Rockville, Bethesda, Kensington, Chevy Chase, Ashton, Wheaton, Olney,  Brookeville, Derwood,  Fulton, Takoma Park, Hyattesville, College Park, Beltsville, Potomac (limited) and surrounding Maryland areas.   If you are uncertain whether you are located in our service area please Contact us.
---
Call Today: 240.424.5984
or
---
Award issued by Happydog